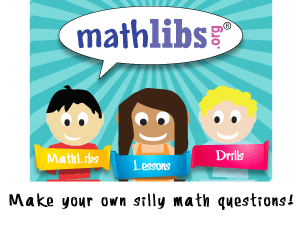 Make your own silly math questions! Have fun while reviewing 4th Grade Math for the state tests. (Flash® is required.) You can also view 
Mathlibs® FULL SCREEN
in a new window and try other fun math content below!
Click MathLibs below to choose between Multiplication MathLibs® (Grade 3) and Grade 4 MathLibs® sets. You can then generate your own silly math questions!
Click Lessons below to click through fun animated Grade 4 math lessons in: Numbers, Patterns, Measurement, Geometry, Graphing, and Probability. If you prefer to hear audio with the lessons, click here.

Try our Grade 4 Math Review with audio
Colorful PDF of the Grade 4 Lesson 1 concepts (whole numbers, fractions, decimals, rounding, expanded notation, multiples, factors, what it means to be prime, the Associative and Commutative Properties, how we compare numbers and long division)
Rapid Fire Quiz, Lesson 1 (whole numbers, fractions, decimals, rounding, expanded notation, multiples, factors, what it means to be prime, the Associative and Commutative Properties, how we compare numbers and long division)
Rapid Fire Quiz, Lesson 2 (using symbols instead of numbers, patterns, ratios, and percents)
Rapid Fire Quiz, Lesson 3 (length, perimeter, area, volume, time, temperature, and estimation strategies)
Rapid Fire Quiz, Lesson 4 (degrees, types of angles, parallel and perpendicular lines, shapes and solids, congruent figures, symmetry, and transformations)
Rapid Fire Quiz, Lesson 5 (the coordinate grid, x-axis, y-axis, how to plot and find points, and how to use a grid to measure distances)
Rapid Fire Quiz, Lesson 6 (charts, graphs, random sampling, probability, combinations, minimums, maximums, range, mean, median, and mode)
5 Questions (with answer explanations) on Lesson 1, Numeration & Computation
5 Questions (with answer explanations) on Lesson 2, Patterns, Relationships, and Algebraic Thinking
5 Questions (with answer explanations) on Lesson 3, Measurement
5 Questions (with answer explanations) on Lesson 4, Geometry
5 Questions (with answer explanations) on Lesson 5, Coordinate Geometry
5 Questions (with answer explanations) on Lesson 6, Probability and Statistics
More cool math on the web:
In addition to playing our free MathLibs®, check out more fun math from kidCourses: