Author Bio: Shauna Larson, a passionate mental wellness advocate. For the last five years, she employs her personal experience and deep understanding of mental health to illuminate the complexities and challenges that many face every day. Her thoughtful insights and relatable narratives have been featured in a variety of publications, cultivating a loyal readership that values her authentic voice and practical advice.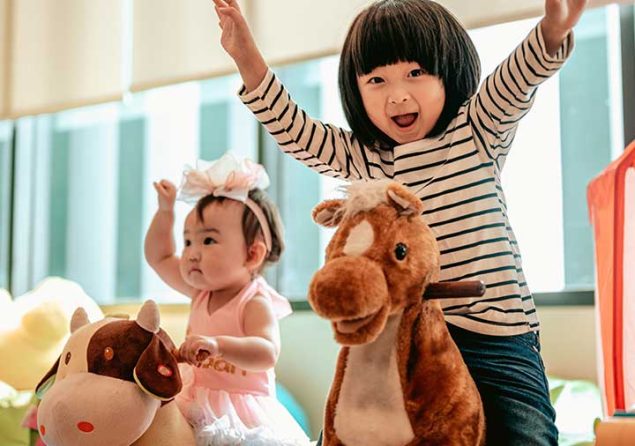 As parents and educators, we recognize the profound impact emotional healing and development have on the growth and well-being of children. Emotional intelligence, the ability to understand, manage, and express emotions effectively, plays a fundamental role in shaping a child's personality, behavior, and overall success. Moreover, a child's emotional well-being significantly influences their cognitive and social development. Therefore, it is crucial for parents and teachers to actively support and nurture emotional growth in children from an early age.
One powerful and natural tool that parents and teachers can employ to facilitate emotional healing and development in children is play. Play is not merely a recreational activity but the language of childhood. Children naturally gravitate towards play to explore the world, express their feelings, and make sense of their experiences.
Understanding the Role of Play in Emotional Healing and Development
Definition of Play and its Significance in a Child's Life:
Play is a spontaneous and voluntary activity central to a child's development and well-being. It is a crucial aspect of their learning process and a natural form of communication. Play is not limited to specific activities but encompasses various forms that cater to a child's unique interests, skills, and developmental stage.
How play is a medium for processing emotions and experiences:
Play offers a safe space for children to explore and externalize their inner thoughts and feelings without feeling judged or pressured to articulate their emotions directly. Children often act out situations they have encountered or observed by playing, allowing them to make sense of their experiences and gain insight into control over their emotions. This processing can be particularly beneficial for children who struggle to express their feelings verbally.
Therapeutic Aspects of Play Without the Formal Therapy Label:
Play itself has therapeutic qualities that contribute to emotional healing and development in children, even without formal therapy. Parents and teachers can create a therapeutic environment by:
Creating a non-judgmental and safe space for emotional expression: By being attentive, accepting, and supportive during play, adults can foster an environment where children feel comfortable expressing their feelings without fear of judgment or reprisal.
Allowing children to explore their feelings without pressure: Encouraging open-ended play without imposing specific expectations enables children to freely explore their emotions at their own pace and in their preferred ways.
How Play Helps Children Express Emotions and Cope with Challenges:
Play as a tool for catharsis and emotional release: When children engage in play, they may act out intense emotions, providing an outlet for emotional release and relief.
The link between play and neurological development in children: Neurologically, play activates various brain parts associated with creativity, problem-solving, and emotional regulation. This stimulation promotes brain development and helps children process emotions more effectively.
Benefits of Incorporating Play into Everyday Interactions with Kids:
Enhanced Emotional Expression: Play provides children a safe and non-threatening medium to express their emotions freely. It allows them to externalize their feelings, experiences, and thoughts, which may be challenging to articulate through words alone.
Strengthened Parent-Child and Teacher-Student Relationships: Play fosters a deeper emotional connection between adults and children. Engaging in playful interactions builds trust, empathy, and mutual understanding, strengthening the bond between parents, teachers, and kids.
Improved Communication Skills: Children learn to communicate verbally and non-verbally effectively through play. They practice expressing their needs, desires, and emotions, promoting better communication and emotional intelligence.
Enhanced Cognitive Skills: Play stimulates creativity, problem-solving, and critical thinking. It encourages children to explore and experiment, leading to improved cognitive abilities and higher levels of curiosity and imagination.
Social Skill Development: Play, especially in social settings, allows children to practice essential social skills like cooperation, sharing, taking turns, and negotiating. These skills are crucial for successful interactions with peers and adults.
Emotional Regulation: Engaging in play helps children process and regulate their emotions. It allows them to act out different scenarios and emotions, leading to better dynamic management and coping strategies.
Increased Resilience: Play enables children to face challenges, solve problems, and learn from their experiences. They develop resilience and adaptability as they navigate various play situations, preparing them for real-life situations.
Physical Development: Different forms of play, such as physical play, promote physical health and development. It helps build gross and fine motor skills, coordination, and body awareness.
Stress Reduction: Play can act as a stress reliever for children. Engaging in enjoyable and playful activities can reduce stress and anxiety, promoting a positive emotional state.
Academic Preparedness: Play-based learning can complement formal education. It fosters a love for learning, creativity, and curiosity, setting a solid foundation for academic success.
Increased Confidence and Self-Esteem: As children master new skills and overcome challenges through play, they gain a sense of achievement, boosting their self-confidence and self-esteem.
Joy and Happiness: Play is inherently fun for children. Incorporating play into everyday interactions brings joy and happiness to their lives, contributing to their emotional well-being and happiness.
Different Types of Play and Their Healing Impact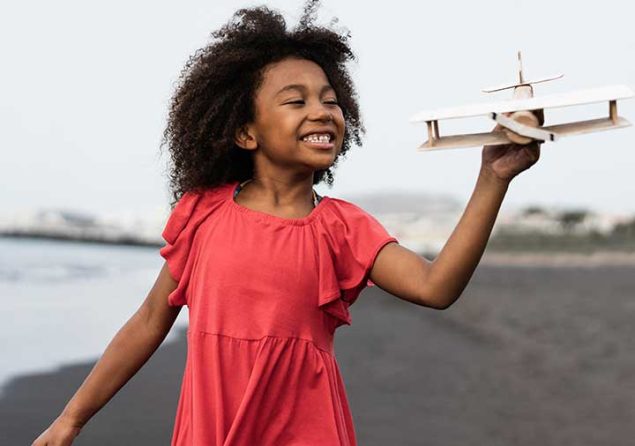 (1) Imaginative Play
Imaginative play involves children using their imagination to role-play scenarios from their experiences or desires. You can explore various imaginative play ideas with kids, such as cooking an imaginary meal, playing as superheroes, or transforming a simple cardboard box into endless possibilities. The beauty of imaginative play lies in its simplicity—ordinary items like a cardboard box can morph into a house, car, or airplane, making it accessible and endlessly creative.
Encouraging storytelling and role-playing
Storytelling and role-playing allow children to engage in imaginative scenarios, which can be therapeutic for emotional healing. Encouraging children to tell stories or act out different roles helps them process complex emotions, experiences, and challenges in a safe and fictional context.
Using storybooks and props to ignite the imagination: Storybooks and props catalyze children's creativity. They inspire creative play, enabling children to explore diverse narratives and emotions through the characters and stories they encounter.
Participating in imaginative play as a co-player: Joining children in their imaginative play validates their creativity and fosters a stronger bond. It also creates opportunities for emotional connection and expression during play.
Using toys and props to stimulate creativity and expression
Dollhouses, action figures, and puppets for storytelling: These toys enable children to project their emotions and experiences onto characters, giving them a sense of control and understanding. They can act out scenarios that mirror their lives, facilitating emotional processing.
Art materials for creating imaginary worlds and characters: Art supplies like colored pencils, crayons, and clay empower children to express their inner thoughts and emotions visually. Creating art allows them to communicate complex feelings in a tangible and nonverbal manner.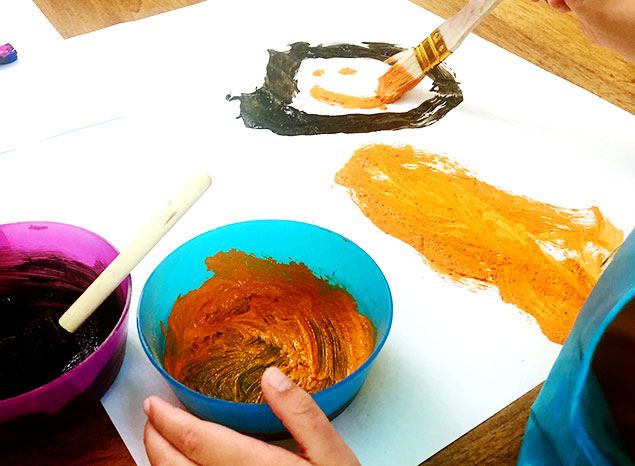 (2) Artistic Play
Allowing kids to draw, paint, and create art freely
Artistic play is a conduit for children to manifest their emotions, thoughts, and experiences artistically. Granting them the freedom to delve into art without constraints fosters genuine emotional expression. Artistic endeavors encompass a spectrum of activities, from coloring and tracing to collage and beyond, offering a realm where creativity intertwines seamlessly with authentic emotional release.
Providing various art supplies and materials: Offering a wide range of art supplies, such as paints, pastels, and different paper types, allows children to experiment and choose the medium that best suits their emotional expression.
Avoiding judgment and praising effort over a result: When engaging in artistic play, adults should not evaluate the final artwork but instead praise the action and the process involved. This approach fosters a supportive and non-judgmental environment for emotional exploration.
Using art as a tool for emotional expression and communication
Encouraging children to talk about their artwork: Engaging children in discussions about their art opens channels for expressive communication. They can describe the emotions, experiences, and thoughts behind their creations, facilitating emotional release and processing.
Recognizing themes and emotions conveyed through art: Observing a child's artwork's recurring themes and emotions offers insights into their inner world. Identifying these patterns helps adults better understand and support their emotional needs.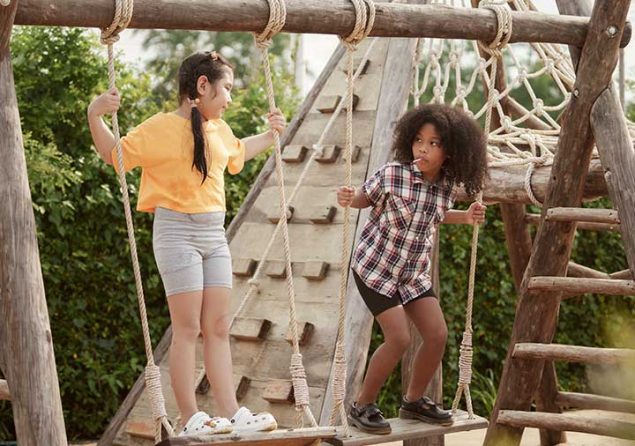 (3) Physical Play
Incorporating movement and physical activities into playtime
Outdoor play for physical and emotional well-being: Engaging in outdoor activities nurtures physical well-being and presents avenues for dynamic exploration and stress alleviation. The natural environment possesses a soothing influence, fostering emotional release and equilibrium. Embracing outdoor play encompasses activities like tummy time, ball play, nature walks, and bike rides, each offering a chance to harmonize physical vitality with emotional serenity.
Dancing, yoga, or sports-related activities to release energy: Physical play activities like dancing, yoga, or sports allow children to release pent-up energy and tension, positively influencing their emotional state.
Understanding the connection between physical and emotional well-being
Observing the impact of physical play on mood and behavior unveils invaluable insights into a child's emotional state. This observation lets parents and teachers discern patterns and precisely tend to emotional needs. By immersing themselves in a child's play, caregivers can understand the inner workings of a child's emotions.
Harnessing the potential of physical play as a tool for managing stress and anxiety is paramount. Physical activities present a constructive avenue for coping with stress and anxiety. It provides an outlet for emotional release and facilitates relaxation. Encouraging children to channel their emotions through physical movement fosters a healthier dynamic equilibrium and instills coping skills that can be carried into adulthood.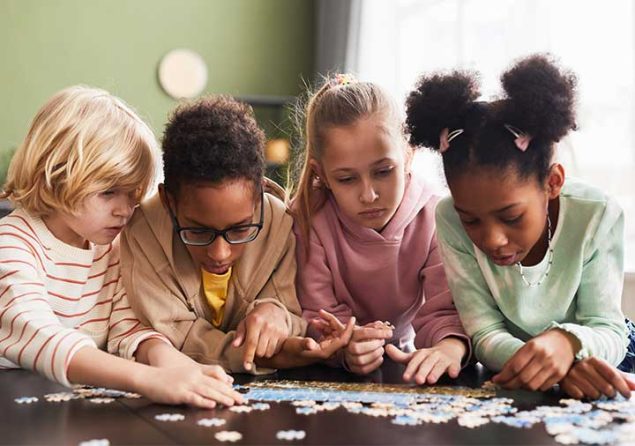 (4) Social Play
Facilitating interactions with other children for social development:
Organizing playdates and group activities: Providing opportunities for children to interact with peers fosters social skills, such as communication, cooperation, and empathy. Positive social experiences contribute to emotional well-being.
Teaching children social skills through cooperative play: Encouraging collaborative play helps children learn essential social skills like sharing, taking turns, and problem-solving. These skills are vital for building meaningful relationships.
Guiding kids through conflict resolution during play:
Conflict resolution during play provides a valuable opportunity for emotional learning and growth.
Mediating conflicts while encouraging empathy and compromise: Adults can mediate and help children understand the importance of kindness and compromise in resolving disagreements.
Turning play conflicts into valuable learning opportunities: Transforming play conflicts into teachable moments helps children develop conflict resolution skills that extend to real-life situations.
Creating a Playful and Nurturing Environment:
Setting up a Safe and Supportive Space for Play:
To promote emotional healing and development in children, it is essential to establish an environment that encourages play and emotional expression.
Designate a play area with age-appropriate toys and materials:
Create a dedicated space in the home or classroom with toys and materials suitable for the child's age and developmental level. This ensures children can access play resources that align with their interests and abilities.
Ensure the physical environment promotes exploration and creativity:
Arrange the play area to encourage exploration and creativity. Organize toys and materials in an accessible manner, providing easy visibility and reach for children. Include open-ended items that promote imaginative play and allow children to use their creativity freely.
The Importance of Unstructured Playtime:
Unstructured playtime allows children to explore and express themselves without imposed rules or agendas, nurturing their emotional growth.
Allow kids to direct their play and follow their interests:
Encourage children to lead in the play and explore their interests and curiosities. This autonomy fosters their sense of agency and decision-making skills.
Foster self-confidence through autonomy in play:
Allowing children to direct their play activities boosts their self-confidence as they develop the ability to make choices and take initiative.
How to Engage with Kids During Play Without Directing the Activities:
Parents and teachers should participate in play without taking control, creating a collaborative and supportive atmosphere.
Take on the role of a play facilitator and observer:
Be present as a play facilitator and observer rather than an authoritative figure. Offer encouragement and assistance when needed, but allow children to explore and create independently.
Show genuine interest and enthusiasm in children's play choices:
Demonstrate authentic interest and confidence in what the child does during play. Ask open-ended questions to encourage them to share their thoughts and feelings, creating emotional expression and reflection opportunities.
Playful Techniques for Specific Emotional Challenges
Emotional challenges such as anxiety, fear, anger, and grief can be effectively addressed through playful techniques that promote emotional healing and development.
Anxiety and Fear
Calming and relaxation techniques can remarkably effectively address anxiety and fear through play. Children can learn simple self-soothing and emotional regulation methods by seamlessly integrating breathing exercises into play routines.
For instance, playing pretend scenarios where they "blow away worries" while blowing bubbles or feathers can help children associate play with relaxation. Additionally, guided imagery can be introduced through storytelling during play, teaching children to imagine peaceful and secure environments. This technique encourages them to visualize a calming space, reducing anxiety and promoting emotional well-being.
Moreover, utilizing play to desensitize children to their fears gradually proves beneficial. This involves role-playing situations related to their worries using toys, dolls, or drawings, allowing them to confront their concerns indirectly. This process provides a controlled context for facing fears, building confidence, and developing strategies for managing anxiety.
Anger and Frustration
To assist children in managing anger and frustration, playful techniques can be highly effective in promoting emotional healing. Encouraging healthy ways to express anger through play can be achieved through various avenues, such as "pretend play," where they can act out their rage and explore ways to resolve conflicts. This helps them learn healthy ways to manage their emotions.
Engaging children in physical activities and encouraging cooperation and teamwork allows them to channel their energy positively and collaboratively. Additionally, offering alternative outlets for bodily energy, such as sports or dance, enables them to release pent-up energy while promoting emotional balance.
Grief and Loss
Addressing grief and loss through play requires sensitive techniques to help children process complex emotions. One effective method involves using dolls or figures that symbolize the lost loved one, allowing children to externalize their feelings and create scenarios that reflect their experiences. Storytelling and artistic expression are also valuable tools. Encouraging children to tell stories or create artwork related to their emotions surrounding grief enables them to explore their feelings creatively and therapeutically.
Additionally, play can catalyze discussions about grief-related emotions. Engaging in conversations prompted by play themes provides a natural and non-intrusive platform for children to express their thoughts, memories, and questions. Reading and discussing age-appropriate books on grief and emotions further supports this process, offering children an avenue to comprehend and communicate their feelings.
Integrating Play into Daily Routines
Finding Opportunities for Play in Everyday Situations
Incorporating play into daily routines can significantly enhance children's emotional development and well-being. One practical approach is to infuse playfulness into routine activities, transforming them into engaging experiences. For instance, mealtime can become an interactive adventure by turning each bite into a step in an imaginative story.
Similarly, mundane chores can be turned into exciting games involving sorting, counting, or even timed challenges. Moreover, bedtime routines can benefit from incorporating play as well. Engaging in calming activities like collaborative storytelling, where children take turns contributing to the plot, can cultivate a sense of relaxation, creativity, and emotional bonding.
Balancing Screen Time with Playtime
Maintaining a harmonious equilibrium between screen time and playtime is paramount for children's emotional growth and development. To achieve this balance, it's essential to establish clear boundaries for screen time. By setting limits, children are encouraged to explore various play activities that facilitate emotional healing and development.
Alongside these boundaries, interactive and educational content on digital platforms can be leveraged judiciously. Opting for content that promotes problem-solving, creativity, and emotional expression can provide a valuable supplement to traditional play, enhancing children's holistic growth.
Incorporating Play-Based Learning into Educational Activities
Leveraging play as a foundational element in educational activities offers a comprehensive and engaging approach to nurturing children's emotional and intellectual development. One effective strategy is integrating space seamlessly into academic pursuits, enhancing learning outcomes.
For instance, incorporating educational games that teach mathematical concepts through interactive challenges can make learning more enjoyable and memorable. By designing educational activities encompassing elements of competition, collaboration, and exploration, the learning experience becomes academically rewarding and emotionally enriching. This approach nurtures a positive association with learning and fosters a deeper engagement with the material.
Final Thoughts
In nurturing children's emotional well-being, playful emotional support emerges as a powerful tool with a lasting positive impact. Play is a powerful tool for fostering emotional healing and growth, enabling children to express, process, and navigate their complex feelings and experiences.
Children develop essential emotional intelligence, communication skills, and coping mechanisms through imaginative play, artistic expression, physical activities, and social interactions. The safe and nurturing environment created by incorporating space into daily routines facilitates stronger parent-child and teacher-student relationships, paving the way for open communication and emotional connection.
We urge parents and teachers to take action by infusing play into their interactions with children. By creating safe and nurturing spaces, encouraging unstructured play, and leveraging different play techniques, adults can become powerful agents of emotional growth. Let's embark on this journey together, recognizing that play is not just a pastime but an essential tool for promoting children's emotional well-being, fostering resilience, and ensuring a brighter future.
Disclaimer:
The information provided in this article is for educational purposes only and should not be considered as professional advice. It is not intended to diagnose or treat any medical or psychological condition. Always consult with a qualified healthcare provider or mental health professional for personalized guidance and treatment.