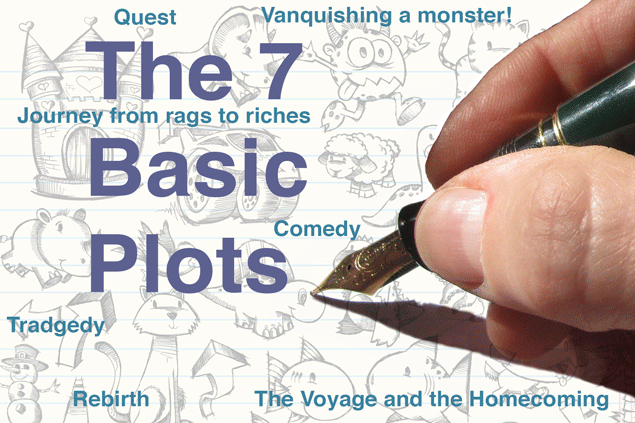 In 2004, Christopher Booker published  The Seven Basic Plots—Why We Tell Stories, an iconic book that was 34 years in the making. In it, Booker identifies seven common story lines that he believes encompass the plots of virtually all of the stories ever written.
Conventional stories share an underlying structure with specific plot elements. All of the seven basic plots have these features in common although they may use them in somewhat different ways:
• Introduction to the protagonist and anticipation of things to come
• Beginning of the adventure; early success encourages the protagonist
• Obstacles present frustrations that cause the protagonist to despair
• Problems escalate to a climax that questions the chance of ultimate success
• The protagonist triumphs despite the odds, bringing resolution to the story
As you read through these plots, see whether they fit any of your favorite novels, movies or fairy tales. List examples of your own for each story type.
Plot 1: Vanquishing a Monster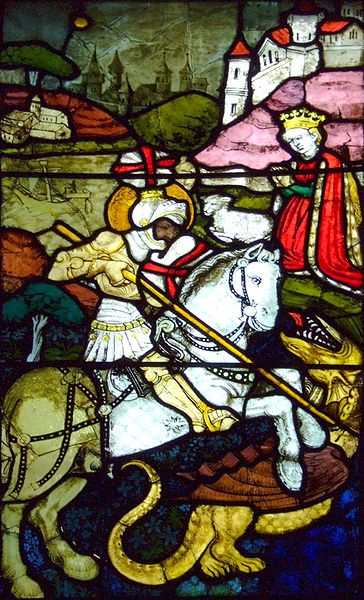 This plot tells the tale of a hero who sets out to defeat an enemy or evil force and triumphs.  The Golden Legend of Saint George and the Dragon is an ancient story from Libya that follows this general plot. A vicious dragon lived in a lake, and to appease him, the townspeople began feeding it two of their own children daily, chosen by lottery. One day, they drew the name of the king's daughter, and the princess was awaiting the dragon on the lakeshore when Saint George rode by. Saint George killed the dragon and rescued the princess from an awful fate.
Plot 2: A Journey from Rags to Riches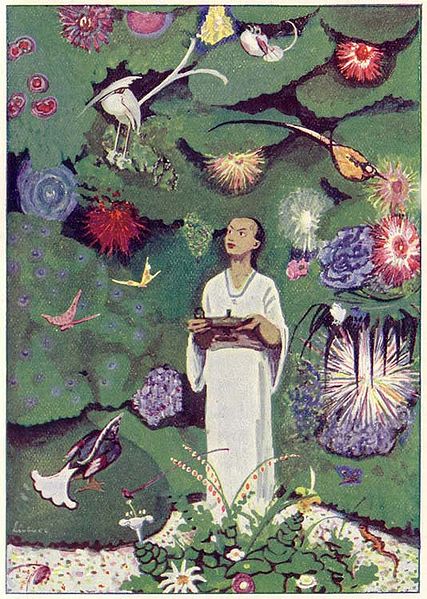 This basic plot follows a protagonist from humble beginnings to a sudden windfall that he or she has not earned, leading to trouble. After losing the riches and returning to rags, the character gains insight that leads to a new order. In the story of Aladdin, the genie grants the poor boy three wishes. Aladdin uses them to become rich and marry the princess. He nearly loses everything when an evil sorcerer intervenes, but after some quick thinking, Aladdin manages to regain his palace and his princess.
Plot 3: A Quest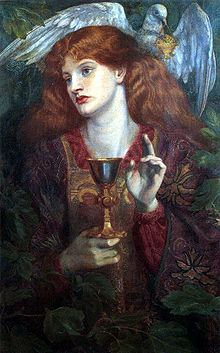 This plot centers on characters that set off in search of something vitally important, chronicling their adventures along the way and culminating with the achievement of their goal. One of the most well known plots of this type is the 12th century tale recounting the Quest for the Holy Grail,  which follows King Arthur's knights as they search for this valuable, elusive object.
Plot 4: The Voyage and the Homecoming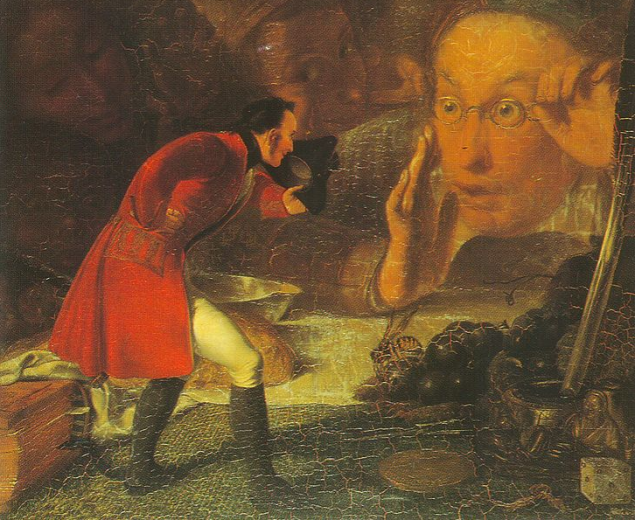 This plot tells of the journey of a protagonist to a faraway land and the character's fight to return home. Along the way, he or she meets other memorable characters and has exciting experiences.  Gulliver's Travels by Jonathan Swift is one example of this type of tale.
Plot 5: Comedy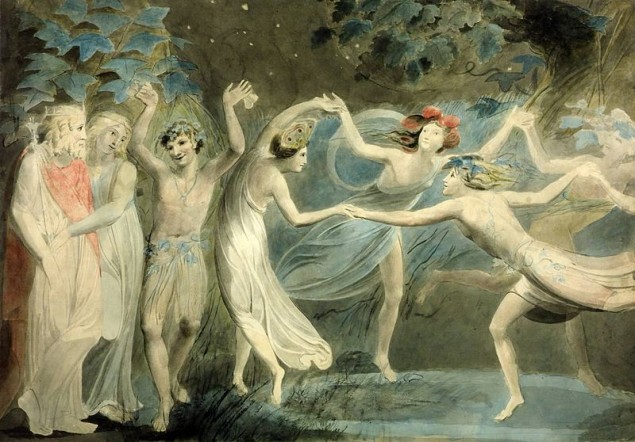 Oberon, Titania and Puck with Fairies Dancing
Presented by Alfred A. de Pass in memory of his wife Ethel 1910
Source/photographer: Tate Britain
A comedy is a love story in which two people must overcome many obstacles to find love and live happily ever after. Such Shakespeare plays as A Midsummer Night's Dream and As You Like It have complicated comedy plots in which sets of couples struggle to find love. Modern (and mature-content)  films like Love Actually (2003) and  Sleepless in Seattle (1993) are classic examples of this plot type.
Plot 6: Tragedy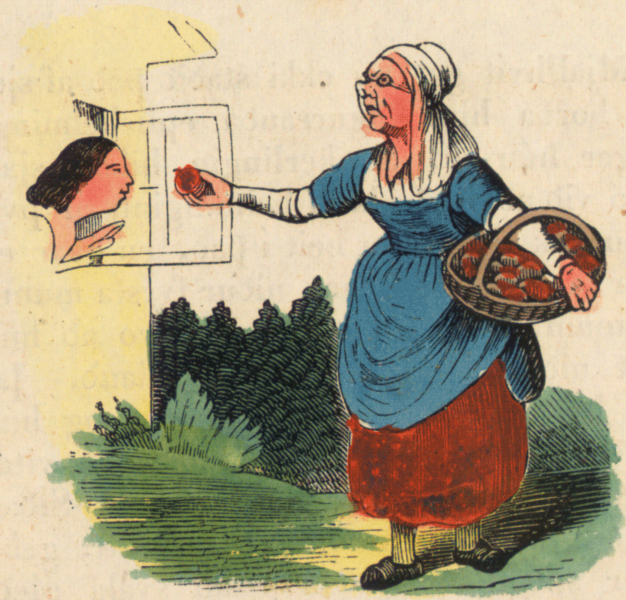 Tragedy tells the story of a villain who sets out to do harm but fails to succeed. The villain typically dies, thus providing a satisfactory resolution. In the Brothers Grimm tale of Snow White, the wicked stepmother attempts to kill Snow White with a poisoned apple but succeeds only in making her sleep. A prince wakens the girl with a kiss while the villainous stepmother meets her death.
Plot 7: Rebirth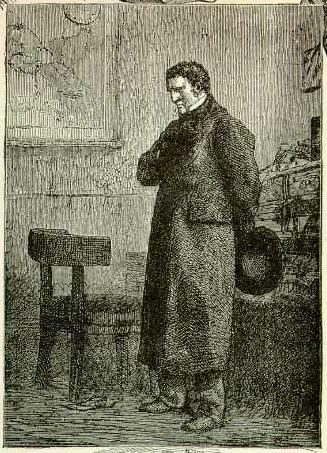 In a rebirth plot, the villain learns a lesson that promotes personal growth and redemption. In Victor Hugo's Les Miserables, the escaped criminal Jean Valjean redeems himself by adopting and raising the young daughter of Fantine, a woman he wronged.
Today's Activity: Writing a Story
Select one of the seven plots described above and create a story with one or more of the following characters. Follow the underlying structure that all plots have in common, and assign your characters names and personal traits to make them more real.
An old woman who sells flowers at a corner stand
A group of college students who belong to a time travel club
A magical dog that can grant wishes
A ruthless CEO of a pharmaceuticals company
Two friends on a backpacking trip through Mexico
A troll who keeps travelers from crossing a bridge
A 25-year-old dishwasher who suddenly inherits millions of dollars