As some of you may know, I have been a seller on TeachersPayTeachers.com for about a year and a half.  A good friend of mine showed me the site and said I should really check it out.  It has turned out to be one of the best experiences of my teaching career.    Not only does TpT provide a means of sharing and selling resources, but it has also opened the doors for teacher collaboration across the world.   It's so easy to get caught up in your own school and classroom.  Now, I have a community of teachers to turn to for support and advice. With education changing so much, this has been crucial!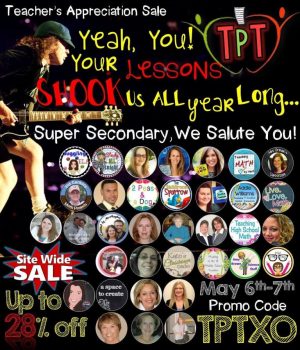 I'm so excited to announce TpT's Teacher Appreciation Sale, which runs Tuesday, May 6 – Wednesday, May 7.  Many sellers are putting their stores up for up to 20% off.  Bonus- if you use promo code TPTXO, you can save an extra 10% off!  If you are new to TpT, now is the time to check it out!  Here is a list of secondary stores participating in the sale.  They have so many amazing resources to offer, so check it out!
All Things Algebra
http://www.teacherspayteachers.com/Store/All-Things-Algebra
Whether you purchase a product, download a freebie, or see a new idea you want to try, I hope you find as much inspiration on TpT as I do. Happy Teacher Appreciation Week!