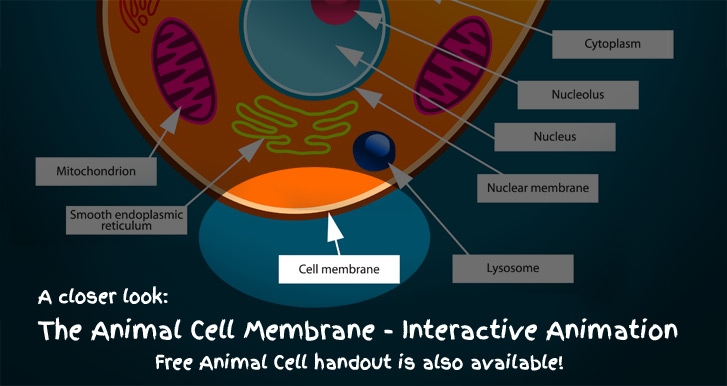 Today's Science in Seconds post zooms in on an important part of the animal cell — the cell membrane.  You can also view the Interactive Cell Membrane in full screen.  Additionally, you may wish to check out this Animal Cell handout – label & color the parts of the animal cell!
Please note: Flash® is required. Place your cursor over anything you see below to find out what it is!
Cool stuff to know & some terms you may hear regarding animal cell membranes:
FLUID MOSAIC MODEL:  proteins drift sideways in a fluid bilayer of phospholipids
SEMIPERMEABLE:  permeable to some substances and not others
MEMBRANE PROTEINS:  partially or totally embedded in membrane
FUNCTIONS:
Functions of the cell membrane include separation from the extracellular (outside) environment, regulation of what types of molecules and compounds can enter the cell, recognition of chemical signals (via receptors in the membrane), and elimination (removal) of cellular waste.
Materials can move into and out of the cell by: diffusion, facilitated diffusion, or active transport.
Diffusion occurs when substances move across the phospholipid bilayer all by themselves.
Active transport uses energy to get a substance across the membrane.
Facilitated diffusion occurs when substances move across the phospholipid bilayer with help.
Proteins, fats, and carbohydrates are broken down into amino acids, fatty acids, and simple sugars, respectively.  These nutrients can the enter cells and act as the building blocks for synthesis of needed compounds.
Crossing the Membrane
| | |
| --- | --- |
| What gets through? 🙂 | What doesn't? 🙁 |
| Small hydrophobic nonpolar molecules (oxygen, carbon dioxide, hydrocarbons) | Large uncharged polar molecules (glucose) |
| Small uncharged polar molecules (water, glycerol) | Ions (H+, Na+, bicarbonate, K+, Ca++, Cl-, Mg ++) |
How things get through:
Osmosis: Water moves from areas of high concentration to areas of low concentration.

Diffusion:  Molecules, compounds, gases, liquids, and ions move from areas of high concentration to areas of low concentration.
Active Transport: ATP is used to move something against a concentration gradient.  Moving from high to low is the natural flow.  Moving low to high requires a pump to get by.  A good mnemonic is ATP: Active Transport Pump.
Pumps: usually a means of active transport.
Channels: usually the facilitator (helpers) in facilitated diffusion.  The flow is from high concentration to low concentration via these "diffusion helpers."