One of the hardest topics to teach in Geometry has to be congruent triangle proofs.  Identifying properties and theorems in order to develop and reason through a proof is not something that happens in a day.  Students need practice- and LOTS of it! One thing I try to do is mix up the practice.  One day spent on worksheets is fine, but it can't be 3-4 days of it.  Practicing the same skill through multiple means really helps students stay engaged and motivated to understand what they are doing.
I'm very excited about my new Congruent Triangles Peel & Stick Activity.  This resource contains 8 proofs to help students practice identifying statements and reasons in congruent triangle proofs. This includes Side-Side-Side (SSS), Side-Angle-Side (SAS), Angle-Side-Angle (ASA), Angle-Angle-Side (AAS), Hypotenuse-Leg (HL), and CPCTC proofs.  What makes this different is the statements and reasons are printed on return labels so students can peel and stick them to the proofs.
There are also TWO versions of the activity.  In version 1, students are given all the statements and must identify the reasons: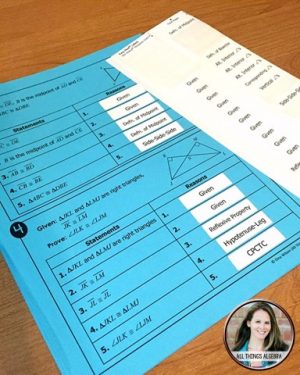 In version 2, students are given a mix of statements and reasons and must identify the missing ones: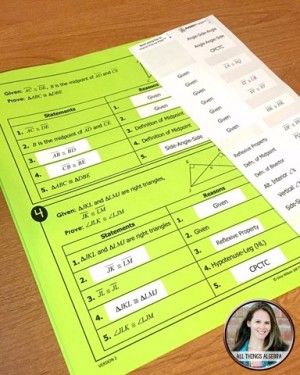 In order to keep it fresh and review through other means, I also have these resources available that I highly recommend to help your students with this very important and difficult topic!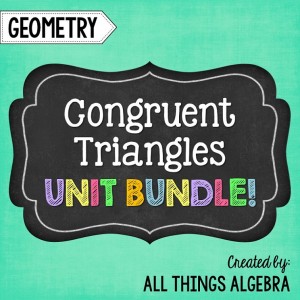 Congruent Triangles Unit Bundle:  This is a complete unit with notes, homework, quizzes, and a tests to teach congruent triangles.  These materials present the topics in an organized fashion to help students see the connections.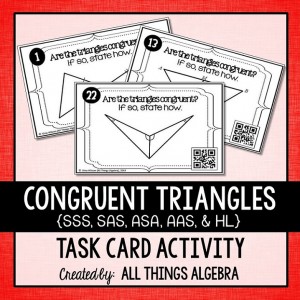 Congruent Triangles Task Cards:  This is a great activity to use that doesn't involve writing proofs, but instead it helps students practice identifying HOW the triangles are congruent based on markings on the diagrams.  There are also QR codes on the cards so students can scan and check their answers.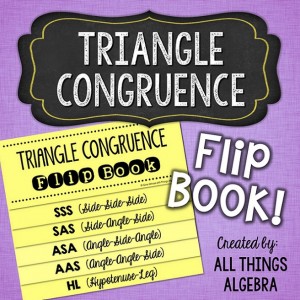 Congruent Triangles Flip Books:  This flip book helps students organize the different ways to prove triangles are congruent, and includes sample proofs for students to complete.  This resource works very well in an interactive notebook!
I hope these resources help with this topic!
~Gina~
All Things Algebra