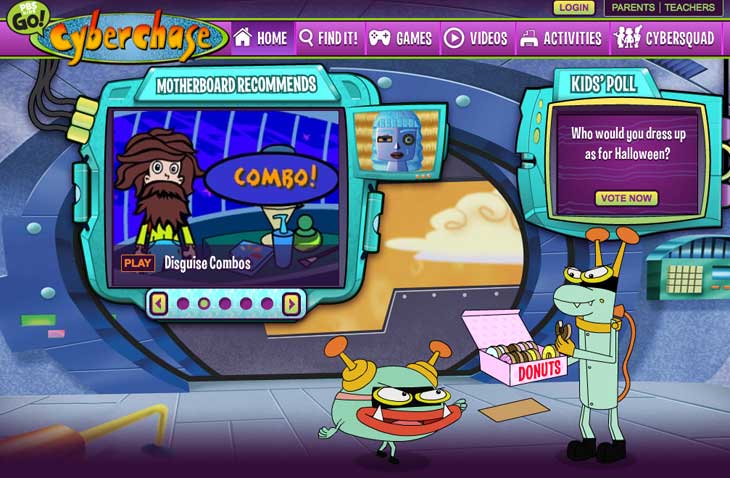 Recommendation of the Week
"Adventures in Cyberspace! The chase is on just wait! In C-Y-B-E-R-CHASE!"
That is the ending to the theme song of one of my fondest childhood t.v. shows, Cyberchase. I was about 10 when the show started airing and I loved watching this show everyday on PBS. It was one of the few shows my mom let us leave on the t.v. (she had a rule where we couldn't watch shows she found "annoying" around her).
I wanted to make sure the show was as awesome as I remembered it was so I watched a couple of the more recent episodes (the show was on for 10 years!!) and let me tell you, I was not disappointed. Right away I started singing along with the totally epic theme song of which I had not forgotten a single word. I had just as much fun listening to Christopher Lloyd as the evil villain "the Hacker" and Gilbert Gottfried as the cyborg bird Digit as I did when I was a little kid.
Cyberchase is an animated show about a group of kids that use math to defeat Hacker from destroying Motherboard while in cyberspace. The show brilliantly incorporates a different mathematical concept into each 20 minute episode. It has the excitement of a kids adventure show yet the lessons are seamlessly integrated into the action. Usually a mathematical concept will be introduced in the beginning of the episode only to appear again as the way to defeat Hacker!
At the end of every episode there is a short called "Cyberchase For Real" which is exactly what it sounds like. The character uses math to solve a real life problem in order to teach kids about possible applications of math. While I will admit that sometimes the concepts seem forced to an adult, I dare you to find a kids show that makes complete sense.
For those who have never watched the show, I encourage you to watch an episode or two (available for streaming on Netflix). It's really hard these days with internet and television so intertwined with our lives that it can be a struggle letting our kids watch t.v. all day. Well, rest assured, you will feel no guilt whatsoever letting them watch this show!
Check Cyberchase out online at PBS!
Zoey has been helping kidCourses for the past decade. When she was in 4th grade she did most of the voice overs for MathLibs®. She is now a Physics major on the east coast. We are so happy that she will be sharing her recommendations on kidCourses.com in 2013. She is also working on a Physics mini-course. Stay tuned!