The school year is winding down for me with only 10 school days remaining.  But for some of you, you may already be done and sitting poolside!  As you should- we all know how hard teachers work and how well deserved the summer break is.
With 10 weeks off, I find it impossible to not think about school, even a little bit!  Three summers ago, a good friend introduced me to Pinterest and I was HOOKED.   I'm such a visual person, and scrolling through all sorts of educational ideas and simply hitting "Pin!" was such an easy and quick way to gather and store links that I wanted to check out.  I have come across new teaching strategies, ways to organize my classroom, new classroom management, and so much more.  And then I'm INSPIRED!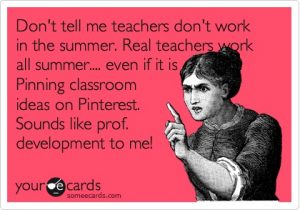 If only we could get professional development points for all the Pinterest surfing we do!!  Looking for some new boards?
Check these out AMAZING boards that contain a lot of really cool math ideas:
Math Fun!   (GREAT for the lower grades! I follow this one for ideas to try with my own kids.)
http://www.pinterest.com/pragmaticmom/math-fun
Flippables & Interactive Notebooks:  
http://www.pinterest.com/4mulaFun/flippables-and-interactive-notebooks/
Make Math Meaningful:
http://www.pinterest.com/missmathdork/making-math-meaningful/
Middle School Frebbies:
http://www.pinterest.com/2peasandadog/middle-school-freebies/
All Things Algebra: (This is where I collect ideas for my secondary classroom)
http://www.pinterest.com/AllThingsAlg/all-things-algebra/
Organize that Classroom!
http://www.pinterest.com/AllThingsAlg/organize-that-classroom/