by freelancer Gemma Bond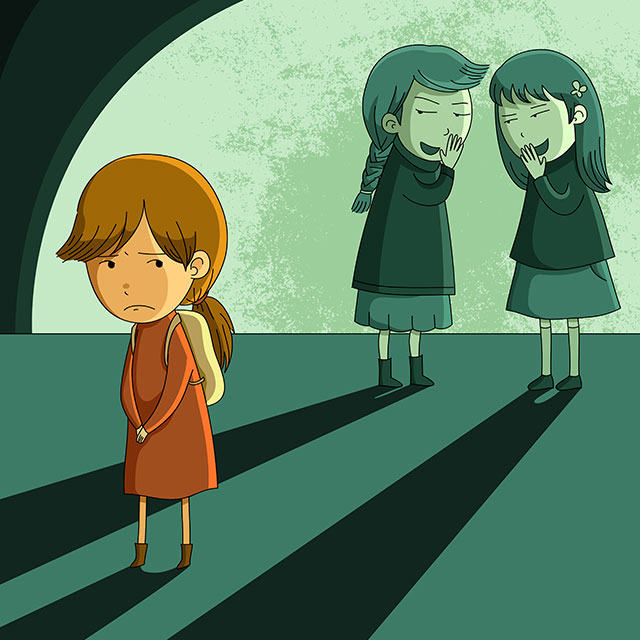 Statistics show that 3.2 million American students are victims of bullying each year. While for some it will be a mild or isolated incident, for others it can be a prolonged period of fear and anxiety that can dent their confidence and leave them with permanent physical and psychological scars. As parents it is our duty to teach our children the skills to deal with bullies while offering them emotional support. But it is also important that we recognize when to intervene and seek additional help. Here are some tips on how to identify whether your child is being bullied and what you can do to help them.
Communicate
If you want to know what is going on in your child's life then you have to keep the lines of communication firmly open. In the hectic, modern world we live in it can be difficult to find the time to talk and with distractions from TV's, tablets and games consoles it's easy to spend time together without actually engaging. Make a conscious effort to eat dinner together as a family every evening with no interruptions. This way you are letting your child know that you are never too busy to spend quality time with them and hear about their day. It also gives you the opportunity to take not of any changes to their mood or behavior.
Is it bullying?
It is likely that all children will be teased or involved in conflict at some point during their childhood. Sometimes it can be something as simple as playful exchanges from friends that are taken too far or a playground disagreement that got out of hand. But if a child is being persistently tormented, threatened or assaulted then it is more serious and needs to be addressed. Bullying comes in many guises these days and can be difficult to pick up on. Perhaps your child is being deliberately ostracized by other children or maybe they are being taunted on social media. For this reason it is important to take note of subtle indications that they are unhappy. Warning signs include withdrawal, bad moods and disinterest in school or socializing. Perhaps they have visible injuries or keep 'losing' their possessions. Their eating and sleeping habits may become disrupted and there will be a general shift in their personality. Whatever the signs, if you suspect bullying then it is important to gently broach the subject with them. Remember it is a delicate issue so be mindful about the time, place and manner in which you approach this.
Support and encouragement 
If your child admits that they are being bullied you should never dismiss it. In their world this is a big deal and trying to downplay it will make them feel foolish for confiding in you. Resist the urge to tell them to fight back; instead encourage them to behave with dignity by telling the bully to stop and calmly walking away. It is important to note that bullying can severely dent a child's self confidence and once they lose belief in themselves they become much easier targets. Raising assertive children with a high sense of self worth means they are not only less likely to be bullied, but if they won't be so affected by cruel words or unfair actions. Building self esteem in children can be done in a variety of subtle ways at home – giving them age appropriate responsibilities, praising their achievements and showing your affection towards them lets them know they are loved, trusted and respected. Once they believe this and become comfortable in their own skin they will find it easier to ignore the bullies.
Enlist help
Although your child may initially be against it, it's important to notify someone at school about what has been going on. A teacher or counselor will be able to keep a close eye on the situation and intervene where necessary. Many schools offer anti-bullying programmes or schemes such as 'the buddy system' which ensures victims of bullying are never left vulnerable and alone. Although you might want to have it out with the parents of the bully, it is best to leave it to the school to notify them and arrange a mediation session if necessary. However in extreme cases of threat or violence don't be afraid to seek legal advice. Your child's safety and emotional wellbeing is paramount. If they are still suffering after action has been taken against the bully then it might be worth looking into some therapy to help them overcome the emotional trauma of the situation.
Is my child a bully?
Discovering that your child has been bullying others can be extremely shocking and upsetting for a parent. Your natural reaction might be to punish them but it is important to get to the bottom of why they feel compelled to treat other children so badly. Often bullies behave the way they do because they are trying to cover their own insecurities or take control of social situations because they feel vulnerable in other areas of their life. Sometimes they get drawn into the wrong crowd and need re-educating about the appropriate ways to behave. As ever, communicating with your child is the only way to resolve the issue.
References
Dosomething.org, 11 facts about bullying
KM, Physical effects of bullying
PTA National, Communicating with children: You make the difference
StopBullying.Gov, Warning signs
Scholastic, How to build healthy self esteem in children
Boston Children's Hospital, Conditions and treatments: Bullying in children
Empowering Parents, The secret lives of bullies – why they do it and how to stop them