Rational expressions is the very last unit that I used to teach after the state assessment in June. It was a great unit because it tied together so many concepts taught throughout the year.  And, any time you can insert more practice with factoring is a win!  The first few years that I taught this topic, my students got it with no problem. They enjoyed an "easy" topic to close out the year and help their final grade. However, once I switched from teaching honors students to inclusion classes, this was no longer an "easy" topic.  I found that not only did students still struggle with the factoring, but they had a hard time simplifying the expressions once factored.  They couldn't see what went with what, what could cancel, and what could reduce.
So I came up with a color coding method that worked so well, that I continued to use it year after year. I had my students choose two colors- one for the monomials and one for the binomials. Traditionally, I always used red for monomials and blue for binomials.
I taught the following steps:
Step 1: FACTOR anything that can be factored.
(Write monomials in RED and binomials in BLUE.)
Step 2:

CANCEL identical BINOMIALS.

Step 3: SIMPLIFY MONOMIALS (Don't forget the exponent rules!)
Step 4: Write what's left
Here are a couple examples: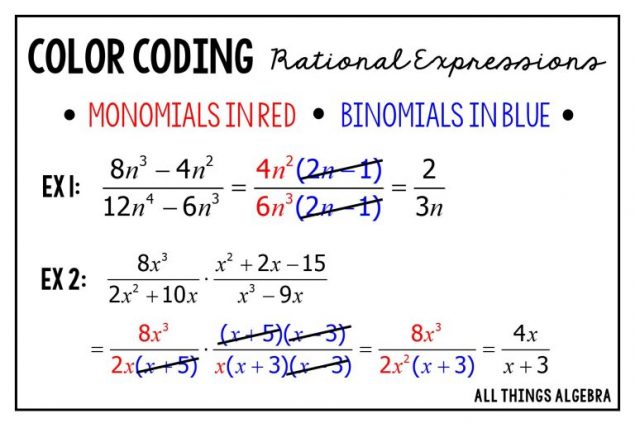 Your students must understand what a monomial is and what a  binomial is.  My students were generally fine with this, as they knew a binomial had a plus or minus sign separating the terms.  They also knew that monomials frequently resulted from a GCF.
I used this strategy when teaching simplifying, multiplying, and dividing rational expressions.  After that point, my students had the concept down and didn't need the colors, though I would use them from time to time just to make sure!  I hope this method helps your students, too! 🙂
If you are looking for resources to use throughout this unit, check out my Algebra 1 Rational Expressions & Equations Unit or my Algebra 2 Rational Functions Unit.  Both units are full of organized notes, homework assignments, quizzes, and tests to help students succeed in what can be a difficult unit!
Gina
All Things Algebra