Hello, and Happy New Year!  As we are now in 2017, I'm finding myself reflecting back on the resources I've created, the wonderful connections and conversations I have made with teachers all around the world, and all the kind feedback I have received.  Making the decision to dive into writing curriculum was one of the best decisions I ever made.
After I saw my friend Jessica Tobin over at Elementary Nest put together her top 16 resources of 2016 on Instagram, I was interested to see what mine were.  I wanted to know what resources were most popular and creating the most impact in math classrooms.  I'm so excited about this post and the opportunity to share my top 16 math activities in 2016 with you!
If you are looking for something new to try in your classroom, please click on these and head on over to my TpT store to read the feedback!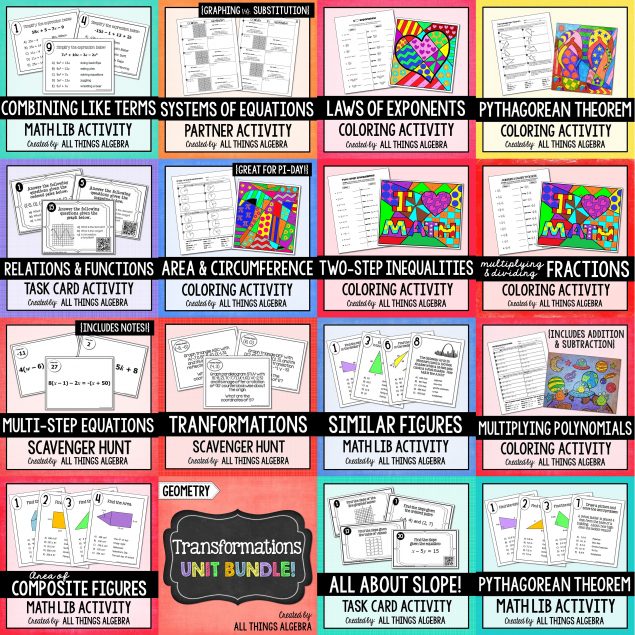 1. Combining Like Terms Math Lib
2. Exponent Rules Coloring Activity
3. Systems of Equations Graphing vs. Substitution Partner Activity
4. Pythagorean Theorem Coloring Activity

5. Relations, Functions, Domain, and Range Task Cards
6. Area and Circumference of Circles Pi Day Coloring Activity
7. Two-Step Inequalities Coloring Activity
8. Multiplying & Dividing Fractions Coloring Activity
9. Multi-Step Equations Scavenger Hunt
10. Transformations Scavenger Hunt
12. Multiplying Polynomials Coloring Activity
13. Area of Composite Figures Math Lib
15. Slope Task Cards
16. Pythagorean Theorem Math Lib
I hope you see something new to try!  Happy New Year!
~Gina~
All Things Algebra