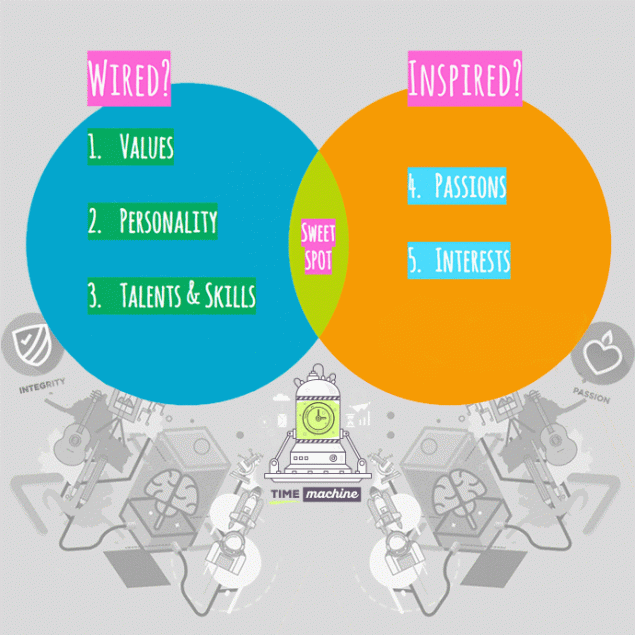 During our Emanant Wellness, workshop Start on Purpose, we encourage attendees to "explore purpose." It struck me that most of the exploration is hindsight. We are chiefly uncovering clues (or "data," as I dorkily like to say), from out past, and then adding context and insight to see where "how we are wired" and "how we are inspired" intersect. (To watch a video made  for grown-ups, click here.)
I decided it would be SO COOL, if we connected to purpose as kids. If we really tapped into what mattered to us throughout our whole lives, we wouldn't be sitting around at 40 reflecting on who we were and all the "clues from our pasts."
Without over-complicating the activity, I took the idea of "how we are wired" and "how we are inspired" into a 6 quadrant grid. Kids can visit this activity every season. Save all the old ones too! This will let you see connections.
VALUES – Use this handout. Feel free to add values to the list. Connecting with Purpose – Values for Kids
QUOTE – After looking at the answers for #1, you may have an idea where to look for quotes that may resonate with your younger buddy. Explore famous quotes to see which one she/he likes. We've posted some here, and are constantly sharing quotes over our RistRoller Pinterest and Instagram accounts. Google, as always, will likely be your BFF. You can Google, for example "famous quotes on compassion."
BE THE CHANGE – Based on what we care about, would like to fix, would like to change, etc, this box on the grid is a place to jot down ideas on how to "be the change we wish to see in the world."
WHAT MAKES ME PROUD – Here is a spot to write down the times we felt proud.
WHAT MAKES ME HAPPY – Here is a spot to write down the times we felt happy.
WHAT MAKES ME SAY WOW – The things that strike awe in us are very important too! Try to keep track of all those moments!
Here's the handout:
Connecting with Purpose for Kids
You Might Also Like
The Gratitude and Happiness Connection
Pieces of My Heart
Summer Projects for Kids Who Want to Make a Difference
Spread Some Hugs: Song, "Good Wish" Handout, and Coloring Page